CHEF DARLEEN FENSTER graduated first in her class and was awarded a diploma for EXCELLENCE IN PASTRY,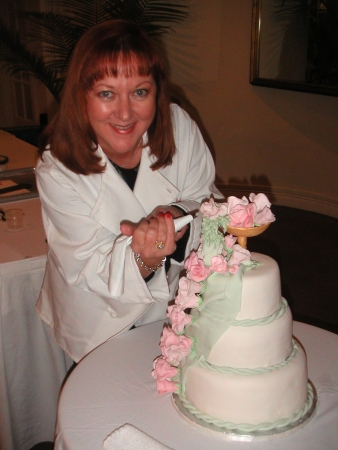 CHOCOLATE, & BREAD from the world famous ECOLE DE GASTRONOMIE FRANçAISE RITZ-ESCOFFIER IN PARIS, FRANCE. She periodically returns to Paris to keep up with the latest trends and further her art by working with some of the finest Chefs in the world.
CHEF DARLEEN has also studied with world acclaimed Sugar Artist NICHOLAS LODGE and received commendations for her Sugar Artistry.
Formerly the Pastry Chef at the prestigous Weston Hills Country Club in Weston, Florida, CHEF DARLEEN has received several awards in Dessert & Chocolate Competitions.
Each creation from LES DELICE is individually customized to the clients desires and is priced per creation. Generally, Wedding Cakes start at $5.00 per person, Fondant Cakes start at $7.00 per person, and Samller Speciality Cakes start at $50 each and increase according to type of design, complexity, time required to create & produce, and delivery location. Sugar Art Flowers, Figures, and designs are priced individually and start at $10 each. Cuisine is also priced per order depending upon the client's wishes.
Les Delice is located in Plantation, Florida U.S.A.